Hello and thank you for taking the time to learn more about us! We are a small home-based cattery located in the Bay Area of California. If you are familiar with this area, we are located north of the Golden Gate Bridge in the County of Marin and in the town of Novato.
We are an active family with four children who all have a passion for spending time with our pets. During the early years, we lived on acreage where we raised dairy goats and sheep. When we moved into "town" our children became involved in 4-H and the world of rabbits and ARBA. Because of our passion for animals, we became known as the family who adopted the local strays and orphaned kittens. Through our rescue and placement work, we became very involved in the care of abandoned kittens. It was from this experience that led us into learning more about cats and where we discovered the amazing world of cats! We joined CFA and TICA where we found a wealth of information and links to other members.
We spent a few years learning about showing and breeding before we decided on which breed we would like adopt. It was a very difficult choice because there are so many amazing breeds out there, but we finally settled on the British Shorthair and the Scottish Fold. Two breeds which share a great deal of history and can be cross-bred to each other. Our reasons were that they are basically old world farm cats. They are very sturdy in build, solid in temperament and "kick backed" in personality! They love to be underfoot, but at the same time do not demand. They love attention and are happy to play, but if you're busy they are happy to keep themselves busy or curl up in the middle of the floor where you just have to step over them!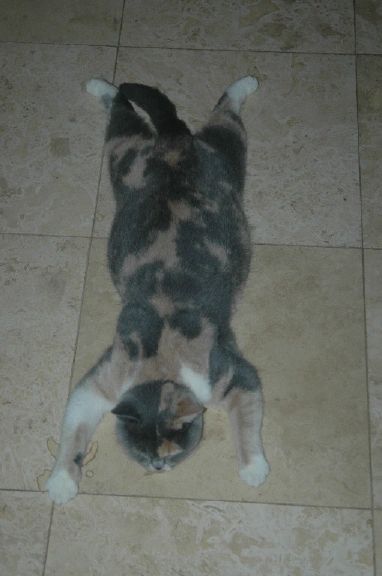 Here is Twila our British Shorthair queen!
She loves attention and is very loving, but
if you don't have time for her she hangs out-
---or rather sprawls out like a bearskin rug!
l
V
l
V
l
V
l
V
And here below is our Galadriel! Our amazing
British Shorthair, the Cheshire of all Cheshires
who likes nothing better than taking
a nap in the middle of chaos!